TASTE BULGARIAN FOOD AND LOVE IT
Your guide to Bulgarian food
If you are planning a trip to Bulgaria, you have probably seen pictures of delicious meals and have read of the amazing taste of Bulgarian cheese and of course, yogurt. Beyond any doubt, it is a wonderful idea to go shopping for some local delights as soon as you arrive. However, it is not unusual to get into a trap that can ruin your first experience – for example buying the wrong product or a low-quality one. We are always sad to hear about such experiences because we know how amazing Bulgarian food can be. This is why we decided to write a guide to Bulgarian food tasting. Below we will reveal some things you want to know before heading to the supermarket or the restaurant.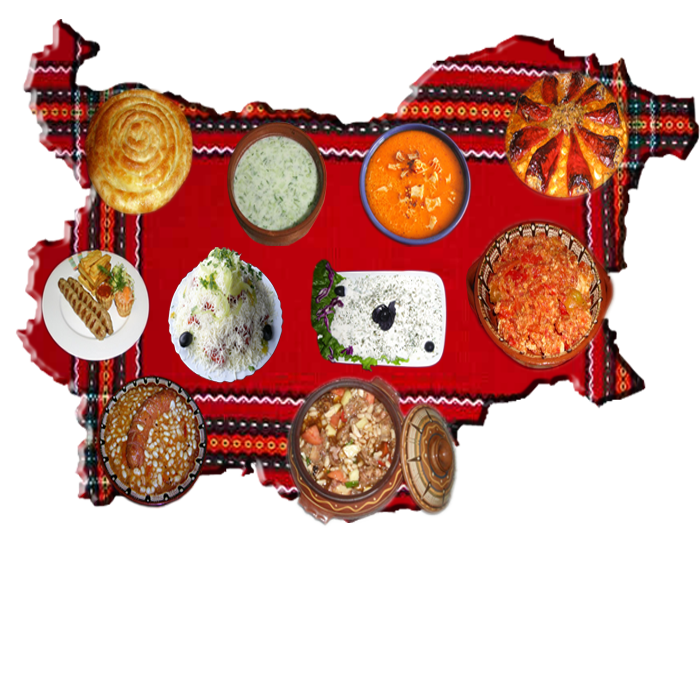 Popular food in Bulgaria
Yoghurt (Кисело мляко – Kiselo mlyako)
It is fair to start with yoghurt – after all, Bulgarian yoghurt is known around the world and actually, its biggest fans are Japanese people. It is indeed a wonderful food to try – it tastes fresh and soft and is proven very healthy, thanks to its special good bacteria that grow only in Bulgaria. If you have tried Greek yoghurt earlier – Bulgarian is similar, but usually with less fat content. The best and cheapest way to try Bulgarian yoghurt is just to buy it from the supermarket. Usually a bucket of 400 g will cost about 1 lv (0.50 EUR). Try the varieties with 2% or 3,6 % fat content – they are the most traditional. There are tens of brands of Bulgarian yoghurt so it is hard to say which one is the best – it depends on your taste. You can also buy good yoghurt in the small dairy shops – very popular in Sofia and other big cities.
Yoghurt is usually eaten alone but it is also served with stuffed peppers or mussaka (I will tell you about it later in this article). It is also served as dessert, mixed with honey and walnuts, or with some jam. We love eating it for breakfast with cereal or fruits/honey/jam.
Another traditional thing in Bulgaria related to yoghurt is Ayran (Айрян) – it is actually yoghurt mixed with water and sometimes salt. It is very refreshing drink for the summer. You can do it at home or buy it in a bottle from the supermarket. Also, in most restaurants you can order a glass of Ayran as a drink.
Cheese (Сирене – Sirene)
Bulgarian white cheese is almost as famous as yoghurt. It has something in common with Greek Feta cheese but again it differs a lot. You can buy it in any supermarket or dairy shop. As there are tens of brands on the market, it is really hard to pick a good one from the first time. Usually the cheapest cheeses contain some vegetable fats (palm oil in most cases). Even if they don't, they are usually less mature and with more water content. I would advise you to try a cheese costing more than 10 lv/kg – in most cases, it will be good. However, expect it to be salty. On the market, you can find cow cheese, sheep cheese, goat cheese and sometimes buffalo cheese. Cow cheese is most common, but the others are worth trying, too.
Cheese is usually served atop our most famous Shopska salad. A typical Bulgarian meal containing white cheese is Sirene po Shopski. It is also served for breakfast with pancakes, toasts, etc. White cheese is an essential part of Banitsa – keep reading.
Another traditional cheese in Bulgaria is our yellow cheese named Kashkaval (Кашкавал). It is similar to Gauda and it is quite popular household product in Bulgaria. There are two most common varieties – from cow milk and sheep milk.
Lyutenitsa (Лютеница)
Good news for VEGANS – this is purely Vegan.
Lyutenitsa is something like tomato-pepper chutney, sometimes containing eggplants, onions, carrots and other vegetables. Almost every housewife has her own recipe for lyutenitsa. In taste it is similar to Ayvar (a popular tomato-pepper chutney around the Balkans). You can spread it on a toast and it goes pretty well with grilled meat, especially with kyufteta and kebapcheta. You can buy it in any supermarket – again there are many brands and it is hard to pick the one that will fit your taste. In general, do not buy the cheapest one.
Lukanka (Луканка)
This dried pressed spicy sausage is counted a delicacy and Bulgarians adore it. It goes well as a cold starter with red wine. It is also widely used on sandwiches and even pizzas.
Sharena sol (Шарена сол)
If you like snacking with bread, you must try it with Sharena sol. It is not a food itself but rather a typical regional mix of herbs that goes amazingly well with bread. You will find it on the table of the traditional restaurants and in every household. Just dip the bread in Sharena sol and enjoy the food of the poor.
Popular Salads
Shopska Salad (Шопска салата)
One of the simplest and more delicious foods in Bulgaria. Usually contains fresh tomatoes, cucumbers, onions, peppers and grated white cheese atop. Dressed with sunflower oil and vinegar in its most traditional version. It is consumed daily by most Bulgarians – we absolutely love it!
Snezhanka Salad (Снежанка)
This is a salad made of yoghurt and cucumbers, with or without garlic and dill. Very similar to Greek Tzatziki. You can order it in many restaurants and also buy it in a box from the supermarket.
Popular Soups
Tarator (Таратор) – Cold Soup
Many people argue if this is a food or drink but it is technically a cold soup made with yoghurt, cucumbers, garlic, dill, walnuts, sunflower oil and water. It is refreshing and light, and some people prefer to drink it in a glass.
Tripe soup (Shkembe chorba – Шкембе чорба)
This soup is especially popular among drinkers. It is known as a universal medicine against hangover but to be honest, we have never counted on its "healing" powers. Shkembe chorba is a controversial meal – you love it or hate it. It is usually served with vinegar and garlic. You can try Shkembe chorba in traditional Bulgarian restaurants in Sofia and the big cities and in many regular restaurants in smaller towns.
Soup Topcheta (Супа топчета)
This is a popular soup containing the usual vegetables like onions, carrots, peppers, and small meatballs. Very common among Bulgarians and present in the menu of many restaurants.
Main courses
Grilled Meat (Скара)
If you have been to Serbia or Bosnia or Macedonia or Turkey, you are probably familiar with the Balkan grill. Bulgaria is also a grill-loving country and had its own traditional grill specialties. The most loved one are kyufteta (кюфтета – meat balls) and kebapcheta (кебапчета – meat sticks). The taste is similar and one of the main differences is that kebapcheta usually do not contain onions. And the shape, of course. They are usually served with Shopska salad, fried potatoes, lyutenitsa.
You can try grill almost everywhere, even on the street. And in almost every restaurant.
Mussaka (Мусака)
Mussaka is a meal prepared with minced meat, potatoes, onions, tomato sauce, covered with a layer of eggs and yoghurt (Here's the Bulgarian Moussaka recipe). Usually served with fresh yoghurt. It is another household meal, especially in the cold seasons. Unfortunately, it is usually out of the menus of restaurants, except some very traditional restaurants. However, it is often present in the lunchtime menus of many restaurants on weekdays between 11.30 and 15h. If you manage to find such restaurant, you will also benefit from the wonderful prices of these lunchtime menus. However, if they see you are not speaking Bulgarian, they might not bring you the lunchtime menu so you should better ask if they have one.
Stuffed peppers (Пълнени чушки)
Peppers are among the products loved by Bulgarian people and we have several very popular and traditional meals with them.
One is Peppers stuffed with cheese and eggs (Пълнени чушки с яйца и сирене). A variety of this is Burek Pepper (Чушка Бюрек) – a grilled pepper stuffed with eggs and cheese and then breaded.
The other version is peppers (usually red) stuffed with rice and meat or just rice (Пълнени чушки с ориз).
Read more at https://www.andrey-andreev.com/en/guide-bulgarian-food/