Foundation for rehabilitation and integration of people in unequal social status – Hephaestus
Dear Sir/Madam,

My name is Ivanka Ivanova, a Bulgarian folk singer. I am writing you on behalf of
of the "Foundation for rehabilitation and integration of people in unequal social status – Hephaestus", Pazardjik.
I am a member of its Governing Board from a month. The foundation exists from 2003 as a non-profit and self-financing unity. Our main mission is to help people in unequal social status – disabled, poor, single mothers, etc. as giving them chance to live a sensible live through social contacts, work and art.
I would like to apologize for bothering you, but I truly believe that we will find compassionate people to help us fulfill our mission; otherwise, without your support, it is doomed not to reach its end.
We would be glad to have your respond to this request. We are open for all your support, whether financial, related to the repair the roof construction or material / yarn, lace, beads, buttons, machines and equipment to work with paper, textile and possible procurement of our products.
If you are able to support us in this regard, please contact us. For your donation will receive: Act of Donation, a protocol with a record on what you have donated, a thankful letter, and articles/ photos about your donation in the Bulgarian media.
May God support us for our work and find good, conscientious people to help us with anything:
We urgently need to repair the roof and ceiling of the room in which daily take place art occupations.
I am sending you a small presentation at first. If you are interested, please let me know, and I will provide you with a more detailed one.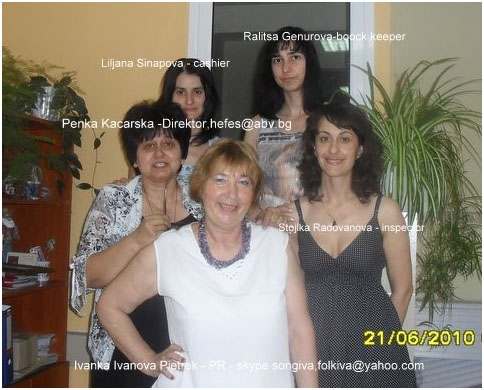 Foundation Hephaestus Pazardjik Bulgaria is a non-profit organization established to 07.05.2003 of Pazardjik District Court, by decision № 829. Registered in socially useful activity, in the Central Register of the Ministry of Justice under № 20050704018, with certificate № 018/04.07.2005, VAT number: 1131166024.
*The foundation was first in the Social Assistance Agency under the Ministry of Labour and Social Policy and Registration of 09.10.2009 as "Center for rehabilitation and integration for elderly people and then as a "Bureau of social services "
* Member of Association of the National Union of Cooperatives Union of the Disabled and the military-Wheelchairs cooperatives in Bulgaria 01.07.2008
* Member of the National Alliance for Social Responsibility in 2009.
Pride of the foundation is that not only that we are a single of its kind on the territory of Pazardzhik Province, but also in Bulgaria; We operate without external funds, we are voluntary and self-sustained.

OUR PURPOSES are
• To unite and support people in disadvantaged groups, promoting their efforts to achieve full human existence through the art and work.
• Working on and improving the social occupations standard through psychological and social support
• To protect human rights and independent lives
The foundation acquired its own building in 2005, provided by the Municipality of Pazardjik for 10 years using it for free.
From the beginning, the condition of the building is in wretched form. We are repeatedly replacing tiles, but the problem remains unresolved, because of the rotten roof and roof structure. After recent heavy snowfalls this winter (2010), part of the roof sag, and there is a danger to collapse over one of the premises.

To restore and maintain would cost us more than we can afford. Due to open programs, lack of donors and nonprofit organizations, the Global crisis and shrinking municipal budgets, the Municipality is unable to provide funds for repair and we are forced to bother you.
We have several supporters; we managed to create minimum conditions for everyday work- electricity supply, our own water meter, partial construction of a bathroom with materials at hand, some old furniture, equipment and purchases for making cards , souvenirs and hand made products.

The products we make:
Cards- Christmas, New Year's, Birthday cards, Name's day Cards and for a wedding.
Bulgarian souvenirs, called Martenitsa
Souvenirs decorated with – bottles, vases, pen boxes, belts, key rings and more.
Christmas toys and decorations – wood, crocheted, cones,
Painted Easter eggs
Knitwear's
Handmade gift bags, gift packages in different sizes.
Handmade mosaic pictures made from natural materials.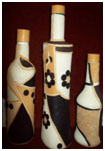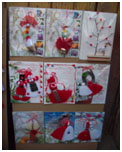 We will be happy to find in your face partners and friends! Tell us your wishes and we will find the methods to be helpful. We'll be glad to send you pictures of our handmade souvenirs. We also have a website developed by volunteers, so we will be able to show you what we have easily.
Our Program Director – Pazardjik's folk singer Ivanka Ivanova, will be glad to sing for you on charity concerts!
We will be happy to become involved in our cause!
Let us make the world more beautiful for the disabled people.
Our contacts:
For registration and correspondence: 4400 Pazardzhik Street St.Angelov "№ 65 7th floor, ap.19
Foundation Office: Street S. Vratsa "№ 1 ; e-mail: hefes@abv.bg
Executive Director – Penka Ivanova Katsarska-mobile phone 00359 895 30 10 38
Program Directors: Ivanka Ivanova Pitrek- mobile phone : 00359 885 608240, 00359 897449788, Ralitsa Petrova Genurova accountant 00359 34 48 00 16 Lilyana Todorova – cashier , Stoilka Atanasova Radovanova-Controller
http://www.facebook.com/profile.php?id=1295361942
http://www.facebook.com/profile.php?id=1295361942 #! / group.php? gid = 123237931042605
Album and presentations of "Hephaestus"
http://picasaweb.google.bg/folkiva/FoundationHEFESTTownOfPazardjikBulgaria #
I have the honor and courage to invite you: "Come with us and take a look at our noble cause!"
Sincerely yours, Ivanka Ivanova Pietrek
Foundation Program Director of Hephaestus, Pazardjik, Bulgaria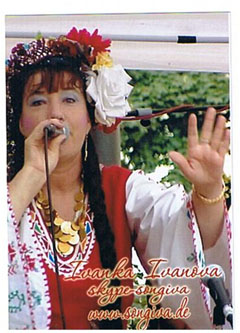 Ivanka Ivanova Pietrek
folkiva@yahoo.com
www.songiva.de
skype – songiva
http://www.yasni.de/?tuid=01161621d24ff7bc8d02da1c2e325ef10
bhttp://www.snimka.bg/album.php?album_id=78324
http://www.youtube.com/bulgiva
http://www.track4.de/agentur/bands/17668
http://www.myspace.com/ivankaivanova
http://www.myspace.com/ivankaivanovavolksliedernsaengerin
http://www.acmrecords.com/artists-n.php?cmd=view&artist_name=Ivank%20Ivanova
http://www.track4.de/agentur/bands/17535
http://www.numubu.com/profile.php?id=66872
www.myspace.com/jsp2010 my son Jean
http://picasaweb.google.bg/folkiva/BulgarianOrtodoxIkonenGesammeltFonBulgarianFolkloreSaengerinIwankaIwanowa#
http://picasaweb.google.bg/folkiva/AlbumFonBulgarianFolksingerIvankaIvanova
http://www.facebook.com/profile.php?id=1295361942#!/group.php?gid=123237931042605
Album and presentation of "Hefest"
http://picasaweb.google.bg/folkiva/FoundationHEFESTTownOfPazardjikBulgaria#