Aquarius 2017 Horoscope
Overview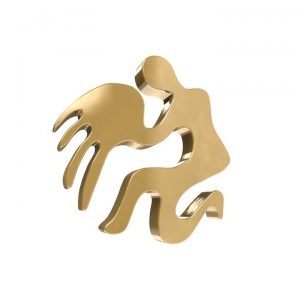 The 2017 Aquarius astrology shows that the North Node is in Leo, so from May 2017 the emphasis is on learning to enjoy and cherish life and building warm human relations. With the South Node in Aquarius, your Sun sign, this is a time to tone down excessive Aquarian qualities. Excessive Aquarius qualities could be too much independence, too much prominence given to your personal freedom and no respect to the freedom of others, rebellion, and vagrancy. We could say that the nodal axis is suggesting the way forward in 2017 is through heart, rather than detachment, depending on himself rather than on friends and group, learn to be a leader rather than a follower.
"Rebel With a Cause" could be the title of a film based on your life, Aquarius. You're an individual original. A humanitarian, you'll put your curious and visionary mind toward the betterment of humanity. Your friends might describe you as inventive, idealistic and philanthropic, but they may also accuse you of being aloof and unpredictable. It's just that you're more pensive and intellectual than most, dear Aquarius. While others choose to color between the lines, you'll find your own box of crayons and an alternative and creative way to get the same job done. Unconventional and progressive, you'll gravitate toward things that are different and strangely new. With your broad mind and accepting nature, you're truly a forward thinker — perfect for the new year!
The horoscope 2017 for Aquarius points out that Jupiter is in your travel sector till Octobre 2017, so travel is on your mind this year. You're eager to see the world and learn from your encounters. Travel experiences may not be life changing, but your perspective will certainly change. You allow yourself to be open-minded to strangers this year, Aquarius, and you're easily influenced. The stars suggest possibilities for spiritual growth. Internal changes are more important to you than external changes. Family dynamics could affect your belief system. Pay special attention to your health and don't overexert yourself.
When Jupiter, the Planet of Luck and Good Fortune, moves into your sector of career, in Octobre 10th, good things are bound to happen in your professional life. Make the most of it, Aquarius!
January 28, 2017 really is the start of the New Year for you as a new Moon appears in your sign marking the astrological start of your fresh 12 month cycle. Your new Moon marks the cosmic start of this cycle no matter when your birthday actually falls and also brings in the Chinese New Year of the Fire Rooster. Again, the vibe of this year underscores what is already coming into being for you.
Aquarius, take this time to look at what it is you want to achieve in 2017. The seeds of whatever that may be are already contained within you. Very often it is hard to grasp one of the biggest spiritual paradoxes of them all and yet the most simplest: you already have everything you need to get anything you want.
Huh?! I hear you say in your admirable and original Aquarius way. Right now I'm back living in my old room in my mum's house, my partner left me, I got laid off from my job and worse I just trod on the hamster and you're telling me I already have what I need? What I need is a million pounds, a contract on my ex and the ability to raise Tumbles from the dead. When I say you already have what you need I don't exactly mean it like that. What I do mean however is that you already have the skills, talents, know-how, experience and above all, insight, to change your reaction to your current situation no matter what it may be, and use these to create the life you desire. Sorry, Aquarius, there's not much I can do about Tumbles however.
Aquarius, find your singing voice or musical talent and learn how to play a musical instrument if you have a desire to do so. Maybe you have a desire to dance, sing, paint, write or to express yourself in a creative way during transiting Uranus in your 3 rd solar house. Don't wait, go for it, Aquarius!
Transiting Pluto in Capricorn has been in your solar 12th house since November 28, 2008 . Watch your back because powerful enemies behind the scenes are not to be trusted. On the positive side you have been learning how to protect yourself from those that would if they could harm you or your reputation or covet your valuable possession. You have been learning to become strong in the face of adversity. And because you have been striving to stay fair, abide by the law and keep honest, the angels stay diligent by your side to keep you protected from evil or negative forces.
You are becoming a powerful force to be reckoned with and there are others who are jealous of you, your position and your accomplishments. You are no longer naive to this fact, thus you have learned to safe guard yourself from those who would use you, talk about you behind your back and those who would take advantage of you and your talents or skills.
Because of all the problems, obstacles you've had to overcome, minor and major aggravations, setback, or sad events you have experienced, you have grown powerful in self-reliance. You have been gaining in inner strength and getting ready for when transiting Pluto enters your solar sun sign around 2023 . You will have learned how to stand strong and be a powerful force in order to experience a whole new life that is hard to imagine at this time. For now, you may experience some isolation or feelings of loneliness as you take those hard steps to a better future.
Aquarius Love and Friendship Horoscope 2017
According to the 2017 Aquarius horoscope for love, you do not have a major planetary transit in your 7th house this year. Your ruler Uranus remains in your 3rd house and those Aquarians born in February will be feeling the impact which will most likely manifest with an increased desire for individual expression and the freedom to do this.
Partners who do not support this or feel threatened by this rapidly evolving new you could stir up feelings of restriction within you and you are likely to rebel against any attempts to block this process. So be warned if this occurs that you could be heading for conflict. For singles, the person I was describing earlier should be very comfortable with who they are with the result that they are comfortable with you being exactly who you are.
With Uranus transiting your solar 3rd house expect the unexpected in regards to your siblings. They could surprise you with unexpected gifts or phone calls. That Uranus in the solar 3rd sector could indicate a new car, new boat, new musical instrument or new stereo. What ever you buy or receive, you will enjoy it thoroughly.
New neighbors are unusual, different and bring unexpected happenings and excitement or upset. You can expect new neighbors. They may be a little strange or unusual and they could bring upset, but for some Aquarians, it may not bother you.
The Aquarius 2017 astrology also shows that Saturn is in your friendship sector, and you may feel that all of your friends are attached or becoming serious in their romantic relationships. Even if you have a honey of your own, you may still feel left out. Toss aside any feelings that everyone is moving ahead and leaving you behind, since you'll be the leader of the pack and get the gang all together. Put your social calendars together with your pals and figure out the best nights for dinner parties. Share your hopes and wishes with friends – the more you speak your dreams, the closer you are to making them come true.
Aquarius Horoscope 2017 For Finance
The Aquarius 2017 money horoscope shows that transiting Neptune is in your solar 2nd house of money, and you don't know how rich or how poor you really are. You may be too busy to know what you have in the bank or how much you are receiving in deposits into your checking account. For some Aquarians money may be slipping through their fingers like water because of unexpected expenditures and bills, computer bills, technical or electrical equipment or machinery like phones, computers, fax machines, stereo equipment, etc.
Think of creative ways to make money, Aquarius. Expect to spend money on technical equipment like computers, cell phones and electronic equipment. You could make money through your creative efforts or artistic talents, so don't hesitate to give it a try!
Aquarius Horoscope 2017 For Career
The Aquarius horoscope 2017 for career shows that from Octobre 10th, Jupiter, the Planet of Good Luck and Fortune, will be in your sector of career. Jupiter sticks around for the next 12 months, so don't be surprised when the boss starts to notice how efficient and deserving you are. The next year will be a good time career-wise. If you were thinking about making a change, this would be a good time to do it. People are eager to have you on their team.
You are asked to put all that experience into practice and especially in the areas of career, reputation and business. Look back on what career progress you made 12 years ago if you were either working or studying back then. Was it hard work or easy going? What opportunities were you offered and what results did you get? What would you differently if offered the same things now?
Aquarius, if this is the first time you have experienced this cycle since you left school or university, then think, act and be seen as a professional and someone who knows what they are talking about. The 2017 Aquarius astrology foretell that doors will open for you and if you take yourself and your talents seriously – others will too. Those of Aquarians who are established in their field could be looking at that next big step up the ladder.
If you are not happy in your chosen career however, Jupiter will help you change direction. Jupiter favours advanced learning linked to career progress and so re-training, broadening your expertise and also travel for business are all favoured now. Some of you, Aquarius, may find your present employer pays for you to study or up-skill.
Aquarius, it is time to think big and to approach career matters with confidence.
If you have been out of work for a while then Jupiter's entry in here should see you being offered at least one opportunity to get back either into the workforce or perhaps return to studying.
Remember however, and I have said to every sign, Jupiter wants to expand our world and ease our path and even on occasion hand us that lucky break. But it is no good just sitting him back and expecting him to wave a magic wand for us. We have to make the effort ourselves. Even if you are out of work, Jupiter can see you focussed on what you have to offer and you won't sell yourself short as a result.
Some of you may find themselves working for a boss who is Jupiter personified – extrovert, risk taking, slightly larger than life and most probably generous to those who show him or her loyalty. If so, this is Jupiter saying hello in person and also the equivalent of a career lottery win!
Those Aquarius whose professions come under Jupiter's rulership should benefit in 2017, too. These include: travel, the law, academia, the media, those who work with animals – especially larger animals, sports and businesses that have overseas dealings. If you are looking at a change of direction and it is in one of these areas I mentioned, then consider Jupiter is giving you a green light now.
It won't be easy for you to sit still this year, as you're eager to travel and explore the world beyond your windows. You're serious about making an excursion and will spend time on the details of any travel plans. While you want to get out there and see the world, you don't necessarily want to compromise your creature comforts. A four-star stylish trip is up your alley. If your first trip winds up not being all that you thought it would be cracked up to be, don't be put off by the idea of traveling again later on in 2018. You know better than anyone that success is in the planning. In September, many of the planets are aligned in your sector of travel. This is a good time to plan an adventure on the other side of the world. With all the attention you give to your work, you'll need a few quick getaways.
Aquarius Monthly Horoscope 2017
Aquarius January 2017: Do you sometimes feel like an alien on a planet full of humans? Are you able to understand things that other people just don't understand? Do you sometimes have a hard time explaining what you mean, only to have most people look at you thinking, "What in the world is s/he talking about?" You are not alone, but Aquarians more than any other sign have to also be careful of being accident-prone. You should keep a journal and write your thoughts down. You may just begin to see how truly smart you are after all. Make a special birthday wish…you deserve to have your dreams come true too.
Aquarius February 2017: Aggravated and stubborn you seem to be, but does it have to be this way? No…it doesn't! You need to relax and take a vacation from your own mind. If you tend to dwell on issues too much, write them down and put this list away for a little while. You may be feeling overwhelmed about nothing. The powerful Sun is in your sign Aquarius, until it moves into Pisces on the 19th. During this time you should learn to let go of situations that no longer serve you, but use discretion when making these decisions and don't just jump to conclusions because people aren't doing or acting exactly as you wish that they would. Everyone has their own personality and it's up to you to become more flexible and see things from everyone's point of view. If you need time by yourself, then get away…but don't stay away for too long.
Aquarius March 2017: You may need to discuss your ideas and intentions with someone who can give you sound advice. There may be a good reason for the uncertainty that you are experiencing. Someone may be leading you in the wrong direction or holding you back from your desires. Sharing your ideas and feelings with someone close to you will allow you to know whether your feelings are just your imagination or if they are really based on truth.
Aquarius April 2017: You will feel very sensitive all during this month of April. Try not to let anyone upset you. Follow your own feelings, not what someone else is telling you. Just be yourself and don't put on any false appearances or you will only feel even more frustrated. Dear Aquarius…aren't you tired of feeling tired all of the time? Most of the lack of energy that you have is because of these inner frustrations that you have been carrying around. No amount of stimulants like caffeine or nicotine is going to help you feel better. What you need is some sunshine and exercise. Join a Gym or at least get outside and go for a long walk everyday. Don't make any important decisions this month. Go with the flow and be creative!
Aquarius May 2017: How can you be truly happy when you don't really know what you want? Feelings of confusion are very possible now, but consider these feelings an opportunity for you to figure out what you want. If you need counseling or positive advice, call upon someone that you trust. Some positive insights may be all you need now to focus in the right direction.
Aquarius June 2017: You think too much…give it a rest already! What you desire will come to you…so relax! Quit looking over your shoulder, your past is over and this month starts a whole new beginning for you. You could bump into a special someone who will become a great friend, companion, or possibly even more. This person will be different than anyone you have ever known. An intelligent and fun person ready to have a great time with you. This is really of month of fresh starts for you!
Aquarius July 2017: Someone important wants more of your personal attention, but is this person being completely honest with you? Sometimes people do stupid things just to get attention. Realize just how important your life is to you and work on letting go of the situations that cause you confusion and stress. "Honesty is the best policy" this month. Be honest with your Self!
Aquarius August 2017: Consider what you can do to make your living arrangements better for you. Beautification of your home and property will pay big dividends at a later date. If you are not getting along with the people you live with, you may want to consider making a move that will benefit you. You must follow that small voice within you. If you are not content with your current situations then it is time to make a change. If things are flowing along smoothly for you right now, then just get out that pledge, turn up the music, and appreciate everything and everyone that is in your life now. You are truly blessed and have been doing things correctly.
Aquarius September 2017: The last thing you want is to be tied down to anyone or anything. Freedom is very important to you now. If you have a mate that stands behind you and allows your dreams to flourish, then count yourself very blessed indeed! Try to be patient because your temperament may be a little more agitated than usual and you won't intentionally want to hurt anyone's feelings. Freedom is important and will work out well for you if you first take the feelings of others into consideration.
Aquarius October 2017: You can get a lot of fun out of life this month. You love the holidays and have a way of making the best out of all of them. Put on your thinking cap and come up with some great ways to get everyone involved in the excitement. You'll have lots of fun hand-making costumes for Halloween and decorating up your home. You will have plenty of creative things you can do to keep you busy all month long…and…if you have a very special partner in your life…you will play wonderfully together!
Aquarius November 2017: Your career is highlighted and you are in the spotlight. What you once thought was impossible, can now become your reality. You can be and do anything you want to now.
Aquarius December 2017: Are you aware that you hold someone's heart in the palm of your hand? Be gentle and kind, for it you are, he/she will be gentle and kind towards you as well. Often conflicts are just another way of showing affection. Kissing and making up often leads to a re-birth of the relationship. Try to be as understanding as possible this month. Some circumstances may seem out of your control. Try not to take other people's attitudes too personally right now. Have fun!
---
---
astrologyclub.org