Star Wars world at Disneyland
Disney is creating an enormous Star Wars-themed land for its parks. There will be two different parks, one at Disneyland in Anaheim, California and another in Orlando, Florida where Disney World is located. Each will be made up of 14 acres — what Iger described as the largest single themed expansion in the company's history.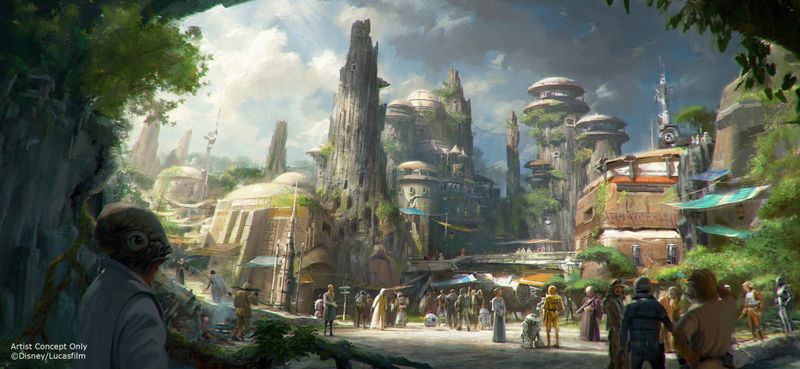 The parks will each have two main attractions: one allows visitors to board the Millennium Falcon and fly what is described as a "secret mission." The other is a battle that puts visitors between the New Order and the Resistance from Star Wars: The Force Awakens. The parks will be populated by characters from the new movies as well as the classic Star Wars trilogy, and it sounds like quite a few fan favorites will be included. "You'd expect to find a cantina," Iger said, "and there will be one."
Most notably, Iger name-checked Scott Trowbridge of Walt Disney Imagineering. We spoke with Trowbridge in 2013 after getting a look at the company's advanced sensor technologies and experiments in immersive, real-life experiences. (Imagineering ran an experiment tied to Tomorrowland back at the 2013 D23 Expo.) After seeing what ILMxLab has been working on — and hearing that team has a passion for theme park experiences — there's quite a few fascinating opportunities for how these attractions will go beyond your average ride.
Star Wars has had a presence at Disney parks before, of course, most notably with the Star Tours ride. This is something entirely different, however: a completely immersive experience that lets visitors step into the land of a galaxy far, far away, where everything — including shop merchants — are in-character as part of the universe. No date was given for the park opening other than a vague "coming soon."
theverge.com